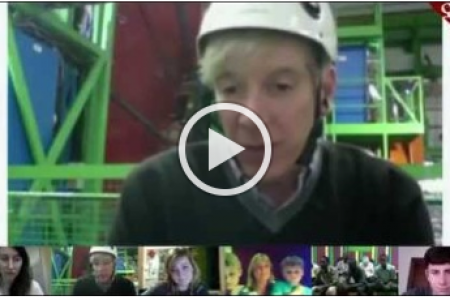 Screenshot from the second Hangout
Google+, the social network by Google, allows users to participate in Hangouts — multi-user video calls. These Hangouts can even be streamed live via a feature called Hangouts On Air.
Barack Obama recently used such a Hangout to talk directly to the American public. It was followed by several hundred thousand people.
To follow this up, CMS and Google+ teamed up to organise two of the world's deepest Hangouts ever, from the CMS underground experimental cavern (UXC). The first one was a regular Hangout with Higgs co-convener Albert De Roeck, while the second one with CMS spokesperson Joe Incandela and Sue Ann Koay was broadcast live to people around the world.
People were thrilled to be able to talk directly to CMS scientists at CERN and the discussions were followed by many others, so the CMS Communications Group will be organising more such events in future.