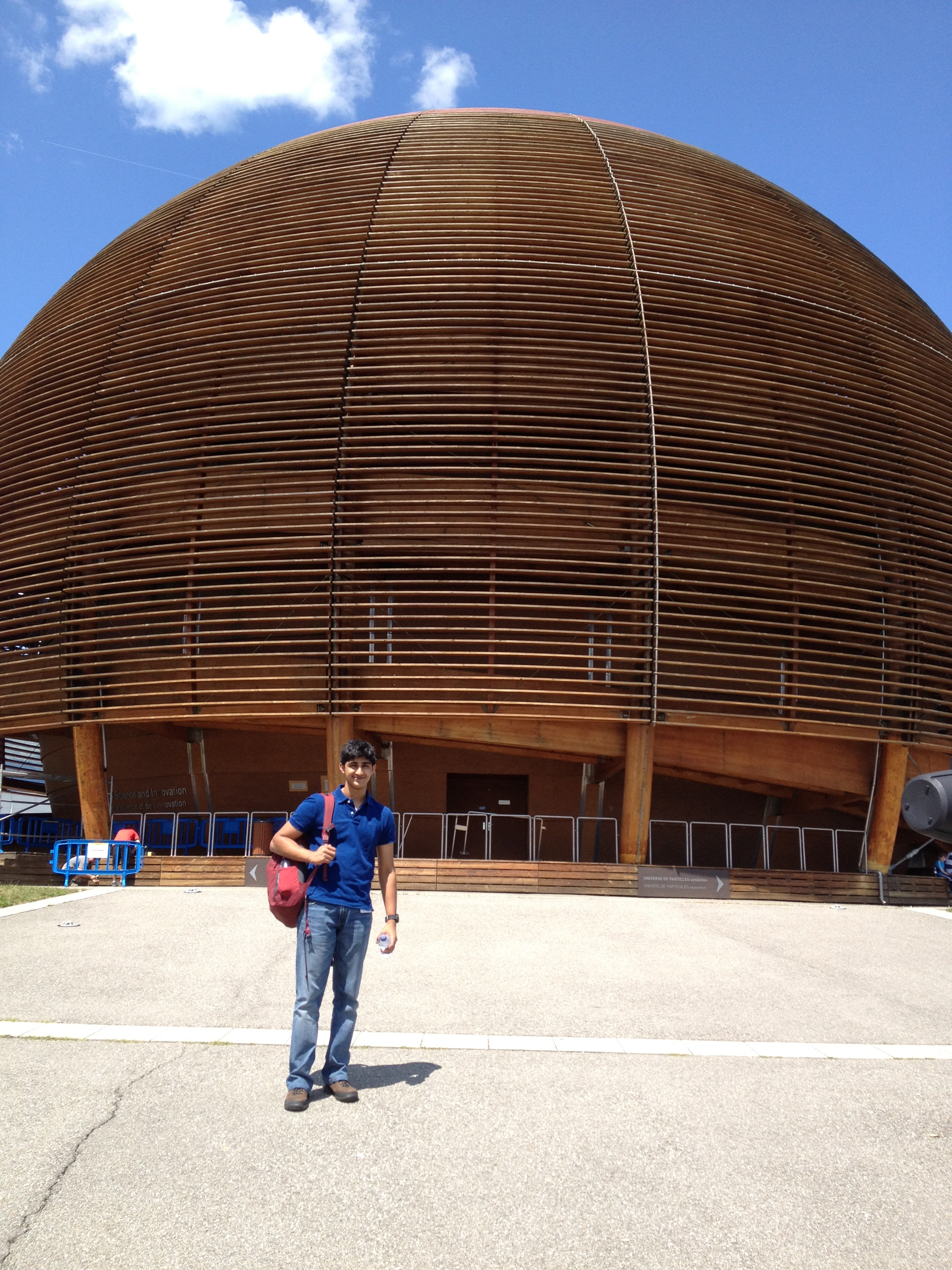 In front of the Globe of Science and Innovation
By Siddharth Sehgal
For two weeks this summer, as an intern at CERN, I had a wonderful exposure to the exciting and challenging world of particle physics under the supervision of Archana Sharma, a senior particle physicist at CERN. I had the opportunity to visit different departments of CERN spread out in over 900 buildings, attend fascinating lectures by renowned academics on cutting-edge research, and to shadow scores of physicists, engineers, theorists and mathematicians.
As a physics student, this was truly a phenomenal experience for me. I really enjoyed my time at CERN — from the lectures and interviews to the various assignments set by Archana and other staff. I thank all of them for letting me enjoy the wonders of scientific research, especially the world of particle physics.
Archana, my supervisor at CERN, is part of a large group of physicists working on a project to improve the CMS detector at the LHC. This project is called 'Gas Electron Multiplier' or GEM. A couple of other interns and I worked on this project and created 2D and 3D views for one section of the detector. It was great to experience the creative and scientific challenges that people at CERN face every day. I produced a poster presentation on the GEM project, based on all the information we took in from physicists and engineers, and as well as our own research.
For one week, we witnessed the construction and virtual development of the GEM detector. We also got a close-up view of a Resistive Plate Chamber (RPC) unit, which is part of the existing muon detection system in CMS. We saw a section of the RPCs and one of the physicists explained how it worked to us. I had the opportunity to do some hands-on practical work when a few of us high-school interns got to assist some senior university interns in taking measurements for some diagnostic tests on the RPCs to investigate their flaws and to understand how they worked.
Later on, Archana gave us a challenging task: we had to use a template shape of an "active area" of a GEM detector and split that shape into smaller shapes, each with an area of 100 cm2 exactly. We had been given the measurements of the trapezoidal shape and using algorithms on a spreadsheet we were able to find out how many shapes of 100 cm2 the trapezium could be split into.
This was by far one of the toughest mathematical challenges that I have ever come across. We realised that for the area to remain constant, all the dimensions of the trapeziums had to change with respect to each other. Several hours and dozens of scrunched up pieces of paper later, we came up with a method of extrapolation and angle finding. It then struck me how challenging it must be to undertake such projects as CERN. I also understood how researchers feel after they succeed!
It is inspiring to find people who truly love what they do, who breathe and live science every day. I have seen people work with such enthusiasm, spirit, enjoyment and passion; the feeling of being near them is palpable!
I learned so much in these two weeks, from the Standard Model to dark matter. Attending the lectures and listening to professors — people driven by sheer enthusiasm, using amazingly complicated scientific and mathematical calculations to answer questions about the universe — was fascinating. Walking around the campus, you see people hurrying eagerly to their offices or laboratories, ready to continue their research and ideas, their unyielding hope of discovering something that could impact the world forever.
There are thousands of physicists (including hundreds of students) from dozens of countries, all working towards a common goal, all small cogs in a large wheel of progress, with jobs ranging from atomic waste management to theoretical physicist; all working in unison, sharing work-loads and discovering together!
It is also in the restaurant on campus that I discovered the true flavours of CERN. Animated discussions about exotic theories, intricate experiments, or sometimes even the best places for skiing and hiking are going on in a dozen languages. Physicists from many lands, dressed in everything from suits to shorts and T-shirts, all sit together and forge strong friendships over hurried meals and quick get-togethers. Students, researchers and professors, all sitting together, no hierarchy of importance or exclusivity! It was inspiring to participate in conversations and make lots of new friends, not for a Facebook status but to learn about CERN. People ranging from a high-school intern like me to PhDs and Nobel Laureates! The numerous nationalities make it seem like the whole world is under one roof.
The fervour at CERN is truly unique and can never be experienced anywhere else. I thank my parents for making this trip possible and Archana Sharma for giving me insight into physics research at CERN. These two-and-a-half weeks have only whetted my appetite for more knowledge. More than anything else, it has convinced me that physics is the subject for me and I see a future in particle physics research. I will always keep this experience close to me.