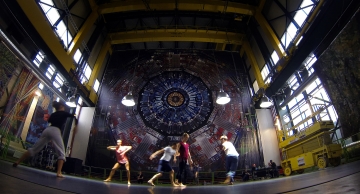 19 Sep 2013 | Anonymous | Engage with CMS
Collide @ CERN and Swiss choreographer Gilles Jobin are working in collaboration with the CMS experiment at CERN, which is hosting the world première of their new performance piece, QUANTUM, in September. This is Jobin's latest choreographic...
READ MORE
11 Jul 2013 | Piotr Traczyk | Engage with CMS
The CMS Guitar has already visited Point 5 in the past but this was her first time underground, with the detector itself. And not only did we take her down, Google Science Fair winner Jonah Kohn and I had an actual jam session in the experimental...
READ MORE