By CMS Communications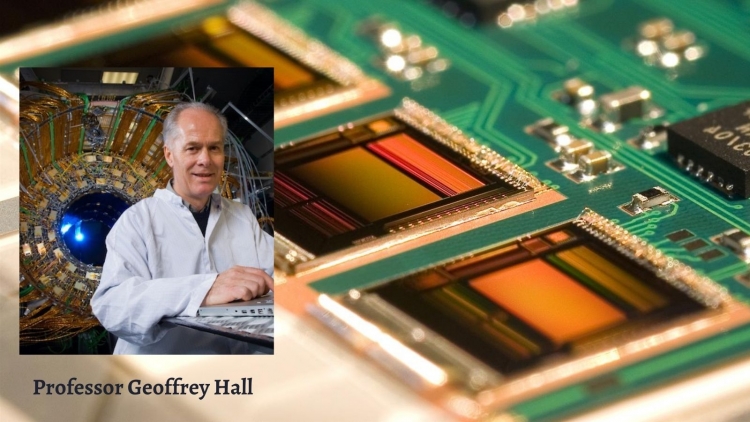 Professor Geoffrey Hall in front of CMS tracker. Credit: S. Boreham, STFC Image background, APV25 chips of CMS Tracker. Credit: M. Brice, CERN
Professor Geoffrey Hall from Imperial London College has won the James Chadwick Medal and Prize. This award is granted by the Institute of Physics (IoP) for distinguished contributions in particle physics. 
Geoffrey has devoted much of his career to development of electronic instrumentation for particle physics experiments, which in the last thirty years has focused on the CERN Large Hadron Collider (LHC). As a CMS member he has worked on tracking detectors and readout electronics. His help was also crucial with the development of the APV25 silicon-microstrip readout chips designed to process the detector signals whilst withstanding large amounts of radiation, and minimizing power consumption. 72,784 APV25s chips, for a total of 9,316,352 electronics channels, are used in the present CMS Tracker, one of the flagship detectors of CMS and instrumental in the discovery of the Higgs boson in 2012. 
Professor Geoffrey Hall: James Chadwick Medal and Prize
For "his pioneering work in developing silicon detectors and front-end electronics for particle physics experiments, especially in crucial radiation-hard applications, critical for the observation of the Higgs boson in 2012."
On winning the award, he paid tribute to his many students and colleagues who contributed to the success of the efforts of everyone involved. He said: "I am very honoured to receive this award, which acknowledges several decades of our work at Imperial to contribute to the amazing physics discoveries at the LHC." (LINK)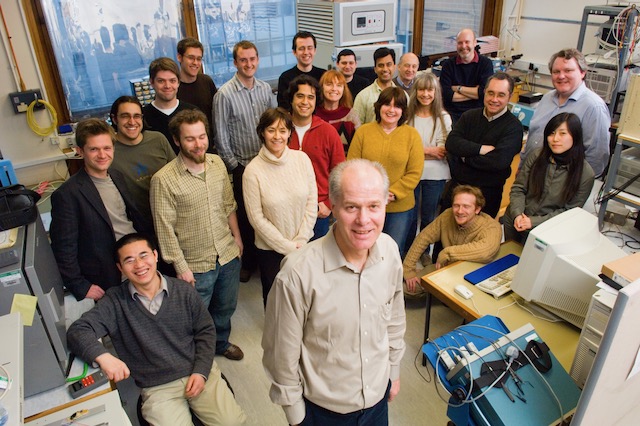 Geoffery Hall and his team during the CMS construction period. Credit: S. Boreham, STFC.